Laser micromachining with Petr Hauschwitz webinar | LMM
If you are interested in Laser micromachining (LMM) technology, we are pleased to invite you to the webinar of our colleague Peter Hauschwitz, Ph.D., MBA (LMM team leader), which focuses on this topic.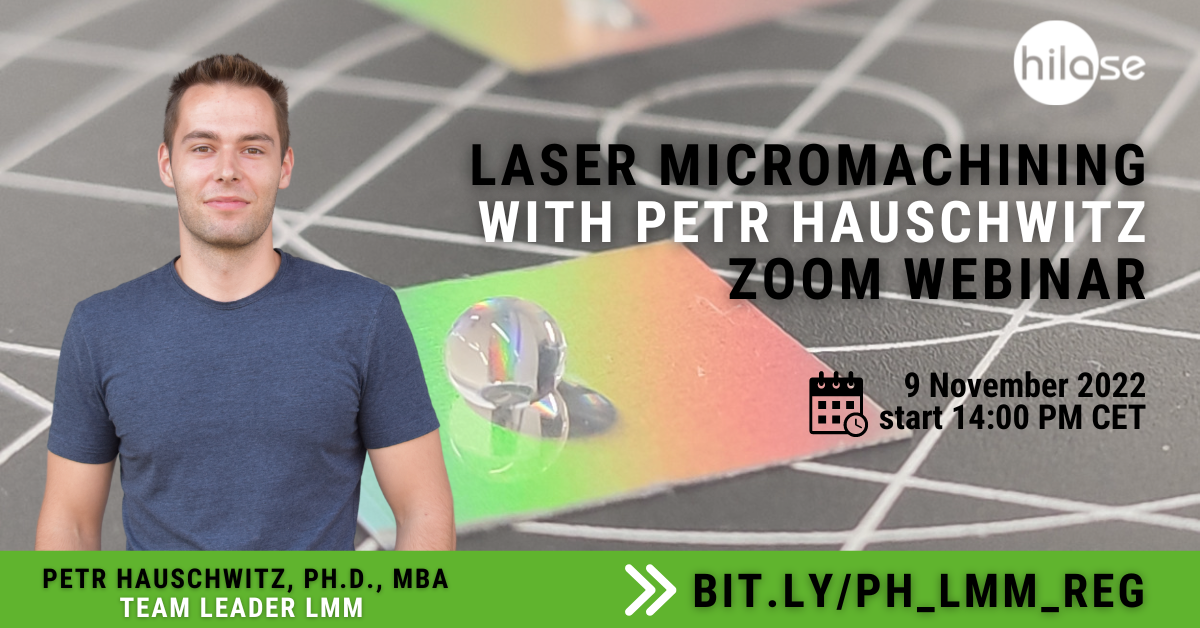 WHEN: 9 November 2022, (2:00 – 3:00 PM CET)
WHERE: ZOOM | bit.ly/PH_LMM_reg
PRICE: FREE
LANGUAGE: EN
AGENDA:
HiLASE introduction
Surface functionalization introduction
Multi-beam solutions
LMM lab equipment
Selected use cases – Mass production of functionalized plastics, Biotechnology – cell growth & antibacterial, Friction tailoring on manufacturing tools, Adhesion modification & glass structuring, Battery and renewable, Large sample processing, wettability tailoring
Cooperation with HiLASE
Q & A session
Closing
About the Laser micromachining | LMM
Laser micromachining is a versatile technology that finds applications in many different industries: aerospace and automotive engineering, biomedical, energy, tooling, food processing, and more. The technology is suitable for metals and alloys, glass and dielectrics, polymers and composite materials.
Main benefits
Drilling of micrometre holes without thermal loading of the material
Cutting sensitive and difficult to machine materials without thermal damage
Production of nano- and micrometre structures for a given surface functionalization
The HiLASE Centre offers its services and know-how in the field of laser micromachining to the Czech and foreign industries. We provide a wide range of services from the evaluation of the customer's problem, through experimental design, the creation and testing of samples, process development and optimization, to consulting and support in the implementation of new processes in the production process.
To learn more about laser micromachining, visit https://www.hilase.cz/en/products/laser-micromachining-lmm/.
The LMM team headed by Peter Hauschwitz is also behind the world's records from the last year.
40 401 beams in a laser multi-beam nanostructuring – record in multibeam laser nanostructuring, with respect to the number of laser beams simultaneously modifying the material surface. More…
World record in the speed production of laser-induced periodic nanostructures on the stainless steel surface. More…