International Day of Light 14.5.2022, Laser Centres HiLASE and ELI Beamlines
The HiLASE laser centre (Institute of Physics) is once again preparing a programme to celebrate the International Day of Light, this year exceptionally on Saturday 14 May, 2 PM – 7 PM.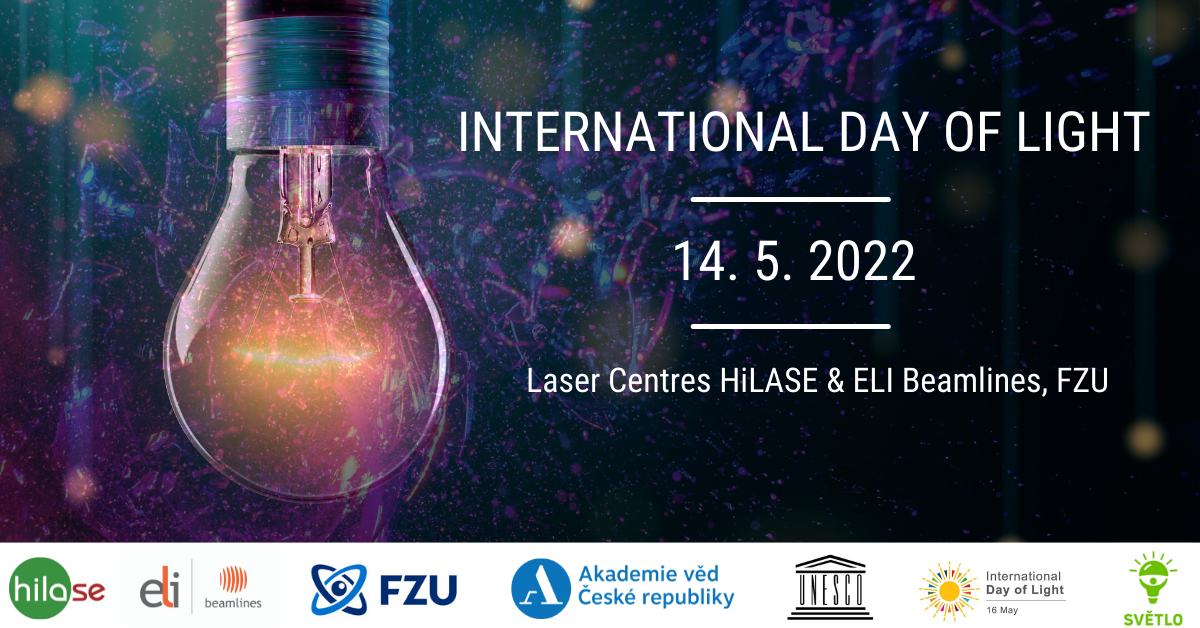 During the International Day of Light, together with UNESCO, we commemorate the moment when Theodore Maiman introduced the first laser to the world on 16 May 1960. Since then, this scientific invention has contributed to improving the lives of many people. At the HiLASE Centre, we also strive to bring practical laser solutions to the real world, which is why this year we are once again taking part in the celebration of this important day.
In cooperation with another laser centre of the Institute of Physics of the CAS, ELI Beamlines, we are preparing lectures, short excursions and activities not only for children. We will keep you updated with details on this website or on Facebook.
PROGRAMME:
Seminar "From candle to laser light" | 15:00 – 15:45 | reservation | CZ only
Laser safety workshop  |14:30 – 15:00 | reservation | CZ only
Workshop – painting on fabric | 16:00 – 17:00 | reservation | colours glowing in the dark
ADDITIONAL ACTIVITIES – WITHOUT RESERVATION
Painting on pebbles
Interactive exhibits
A brief guided tour of the lobby with a glimpse into our laboratories | CZ only
Schlieren system – how to see the invisible
Science lab – interactive science experiments for children | CZ only
Geocaching
Programme of the neighbouring laser centre ELI Beamlines (FZU CAS) can be found HERE.
PLEASE NOTE:
Please note that this event is open to the public. Photographs and video footage of the event are taken for reporting purposes and to promote the event on our website and social media. If you do not wish to be in these recordings, please contact our colleagues at the venue directly or do so by emailing the contact persons listed below according to the venue.
HOW TO REACH US:
By bus l.331 or 333 from Kacerov (metro C) or l.341 from Nadrazi Modrany to the bus stop Dolni Brezany, municipal office.
By car to Za Radnici 828, Dolni Brezany – parking is available in front of the HiLASE Centre or in the ELI Beamlines car park.
CONTACTS:
HiLASE Centre: Katerina Brejchova, E: katerina.brejchova@hilase.cz, M: 721 836 394
ELI Beamlines: Hana Strnadova, E: hana.strnadova@eli-beams.eu, M: 601 560 333