Researchers' Night at the HiLASE Centre
Researchers' Night, an event that will open hundreds of scientific buildings that you usually cannot get into. Join us as we cruise through lectures, workshops, laser mazes and experimental halls – coming up on Friday, September 30, 2022 from 6:00 pm to 10:00 pm. This year, experience science with ALL THE SENSES. Children and adults are welcome and admission is free.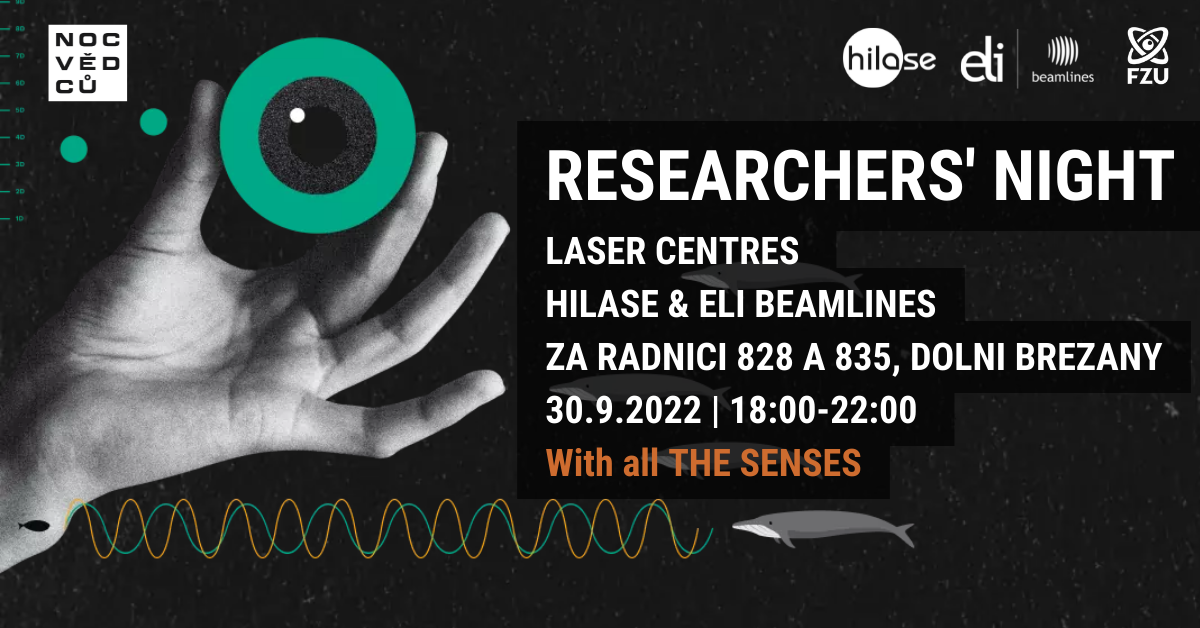 PROGRAMME
PLEASE BOOK YOUR LECTURE AND TOURS BY CLICKING ON THE RELEVANT TIME. MOST OF THE PROGRAMME IS IN CZECH LANGUAGE.
seminar Bad Physics in Films | 19:00 – 20:00 | CZ
seminar How to protect your eyes against lasers? | 18:00 – 18:30 | CZ
guided tour in ENGLISH | 20:00
FREE PROGRAMME FOR CHILDREN AND ADULTS | WITHOUT BOOKING | 18:00 – 22:00 | laser maze, light experiments | making of original glow-in-the-dark stones | try to see the invisible using the Schlieren system
For more details, please follow us at hilase.cz/en/events or on Facebook.
PLEASE NOTE:
Please note that this event is open to the public. Photographs and videos are taken of the event for reporting purposes and to promote the event on our website and social media. If you do not wish to be in these recordings, please contact our colleagues at the venue directly, or do so by emailing the contact persons listed below, according to the venue.
HOW TO GET HERE:
By bus l.333 from Kačerov (metro C) or l.341 from Nádraží Modřany to Dolní Břežany, obecní úřad.
By car –  Za Radnicí 828, Dolní Břežany – parking in front of the HiLASE Centre or at the ELI Beamlines parking lot.
CONTACT US:
HiLASE Centre: Kateřina Brejchová, E: katerina.brejchova@hilase.cz, M: 721 836 394
ELI Beamlines: Hana Strnadová, E: hana.strnadova@eli-beams.eu, M: 601 560 333
FZU: Magda Hrnková, E: hrnkova@fzu.cz
The event is prepared for you together with the neighbouring laser centre ELI Beamlines and FZU. Please see their programme too.