Do you need high-quality nanostructures? PATENT
HiLASE Centre has patented a process enabling the engraving of highly regular nanostructures at the surface of your samples using its intense laser beams and at competitive speed [1,2,3].
Abstract:
A method, a product by the method and device of preparation of highly-regular periodic structure using a pulsed laser beam irradiating a spot on a surface of a substrate are disclosed. The method of direct formation of highly-regular periodic structure on a materials uses activation of Surface Electromagnetic Wave (SEW) interfering with the laser beam on the surface of the substrate in a manner which ensures high quality and regularity of the obtained pattern.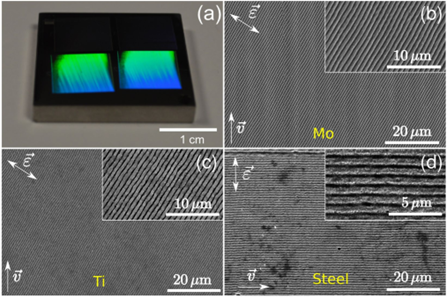 Enjoy the quick writing of high quality nanostructures for your application and increase your competitiveness. Thanks to our scientists and engineers, you will be able to nanostructure any metallic surface of your choice. Our team has 15-years of experience in the field and can tailor the process to your needs.
Don't wait to contact us with your request at solutions@hilase.cz.
[1] Granted EU patent. WO/2018/010707 METHOD AND SYSTEM OF ULTRAFAST LASER WRITING OF HIGHLY-REGULAR PERIODIC STRUCTURES.
[2] Gnilitskyi, I.; Derrien, T. J.-Y.; Levy, Y.; Bulgakova, N. M.; Mocek, T. & Orazi, L. Scientific reports, 2017, 7, 8485 (https://link.springer.com/content/pdf/10.1038/s41598-017-08788-z.pdf).
[3] Sládek, J.; Hlinomaz, K.; Mirza, I.; Levy, Y.; Derrien, T. J.-Y.; Cimrman, M.; Nagisetty, S. S.; Čermák, J.; Stuchlíková, T. H.; Stuchlík, J. & Bulgakova, N. M. Materials, 2023, 16, 2883 (https://www.mdpi.com/1996-1944/16/7/2883).