Lukáš Masopust represented the HiLASE Centre at SYNERGIES OPEN 3 workshop
On April 27th our colleague Lukáš Masopust, Deputy Head of the HiLASE Centre and Head of Projects Management, took part in a Meeting of Czech Stakeholders and the European Commission on the issue of synergies between Horizon Europe / directly managed EU programs, EU funds, and national programmes in the field of research and innovation, SYNERGIES OPEN 3.
His talk was part of the SYNERGIES FROM THE PERSPECTIVE OF THE CZECH RESEARCH AND INNOVATION BENEFICIARIES block and he presented the HiLASE Centre of Excellence as an example of a synergistic project combining funds from Horizon 2020 and the Operational Programme Research, Development and Education.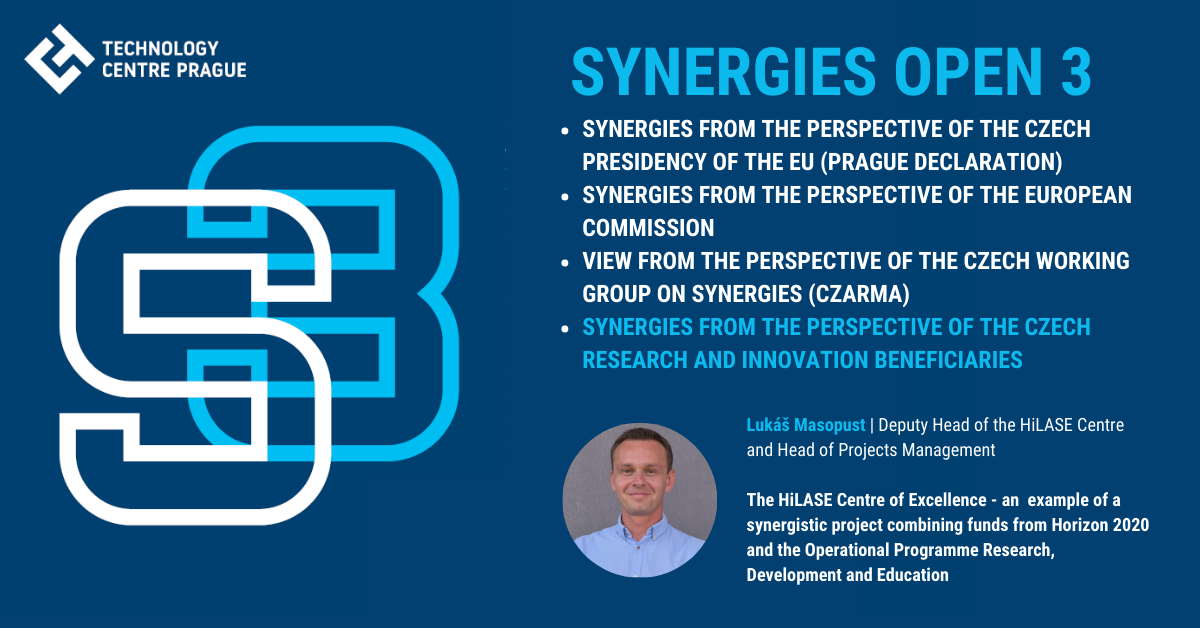 The event was organized by the Technology Centre Prague in cooperation with the Ministry of Regional Development, the Ministry of Education, Youth and Sports, the Technology Agency of the Czech Republic and the Czech Association of Research Managers and Administrators.
Synergies in funding of research and innovation in Europe were one of the priorities of the Czech presidency of the Council of the EU (CZ PRES) in the second half of 2022. As an outcome of the presidency, a conference dedicated to this topic, the Prague Declaration, was endorsed by all member states. During the CZ PRES, the European Commission presented the Commission Notice on Synergies between Horizon Europe and ERDF programmes.
The aim of the meeting was to present news and progress in the field of synergies from the Presidency, from the domestic Czech perspective as well as the European Commission perspective. Discussion on the next pragmatic steps stemming from the Prague Declaration shall take place.