Visit HiLASE booth at the first Photonics+ virtual exhibition and conference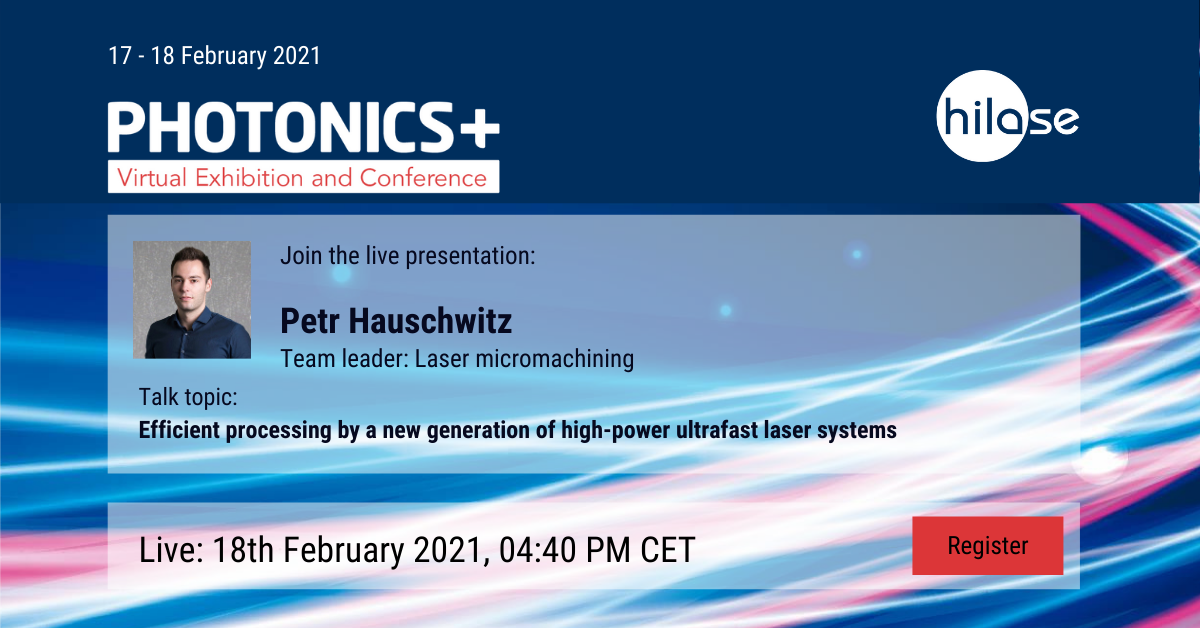 The HiLASE Center invites you to the Photonics+ trade fair, which will take place on 17th and 18th February 2021, this year for the first time online. Visit the HiLASE virtual booth and meet our scientists and experts in laser technology.
On Thursday, February 18, at 4:40 pm, listen to the lecture Efficient processing by a new generation of Hilase high-power ultrafast laser systems by our colleague Petr Hauschwitz. After the talk, there will be space for discussion.
Photonics+ is a trade fair and conference, which is organized annually by the largest European professional association EPIC. It is a traditional meeting of representatives of companies and institutions operating in the photonics sector. Unfortunately, as in the case of other similar events, the Photonics + trade fair was also marked by the ongoing covid-19 pandemic, so unfortunately it will not be possible to meet in person.
This year's Photonics + means more than 280 virtual stands with 200 product presentations. The conference program includes 30 professional keynotes with 24 follow-up networking panels.
Our scientists and experts from LSP, LMM, LIDT teams will be at your disposal at the HiLASE virtual stand. At the same time, members of the Technology Transfer Department are looking forward to seeing you, with whom you can discuss potential projects and possibilities for cooperation.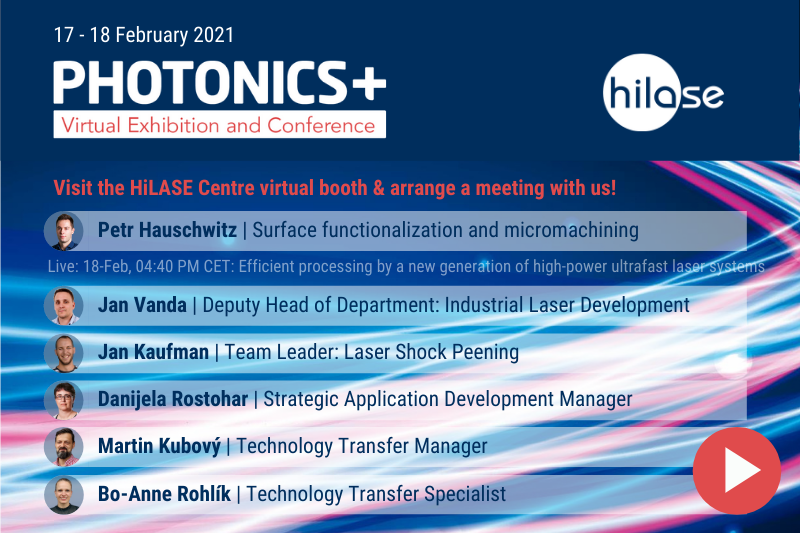 Wednesday, February 17, 2021
13:00 – 18:00 | Danijela Rostohar – Strategic Application Development Manager
13:00 – 18:00 | Martin Kubový – Technology Transfer Manager
13:00 – 15:00 | Petr Hauschwitz – Team leader: Laser micromachining
15:00 – 17:30 | Michal Chyla – Team Leader: Commercial Development
Thursday, February 18, 2021
13:00 – 18:00 | Danijela Rostohar – Strategic Application Development Manager
13:00 – 18:00 | Bo-Anne Rohlík – Technology Transfer Specialist
13:00 – 15:00 | Jan Kaufman – Team Leader: Laser Shock Peening
15:00 – 17:30 | Jan Vanda – Industrial Laser Applications LIDT
Don't forget to book your time for a meeting with HiLASE experts using the form on the HiLASE virtual booth page.
Register now to the Photonics+ Exhibition and Conference
We will provide a voucher for a free ticket (normal prize EUR 49) for a limited number of people who contact us to this e-mail.