10 questions for Tomas Mocek 10th anniversary of the HiLASE Centre
The HiLASE Centre, part of the Institute of Physics of the Czech Academy of Sciences, celebrates its 10th birthday this year. A lot has changed since September 2011, when it existed only in people's minds and "on paper". In the town of Dolni Brezany, a cutting-edge research facility has grown, which has already broken several world records. We asked its head, Tomas Mocek, 10 questions to celebrate the 10th anniversary.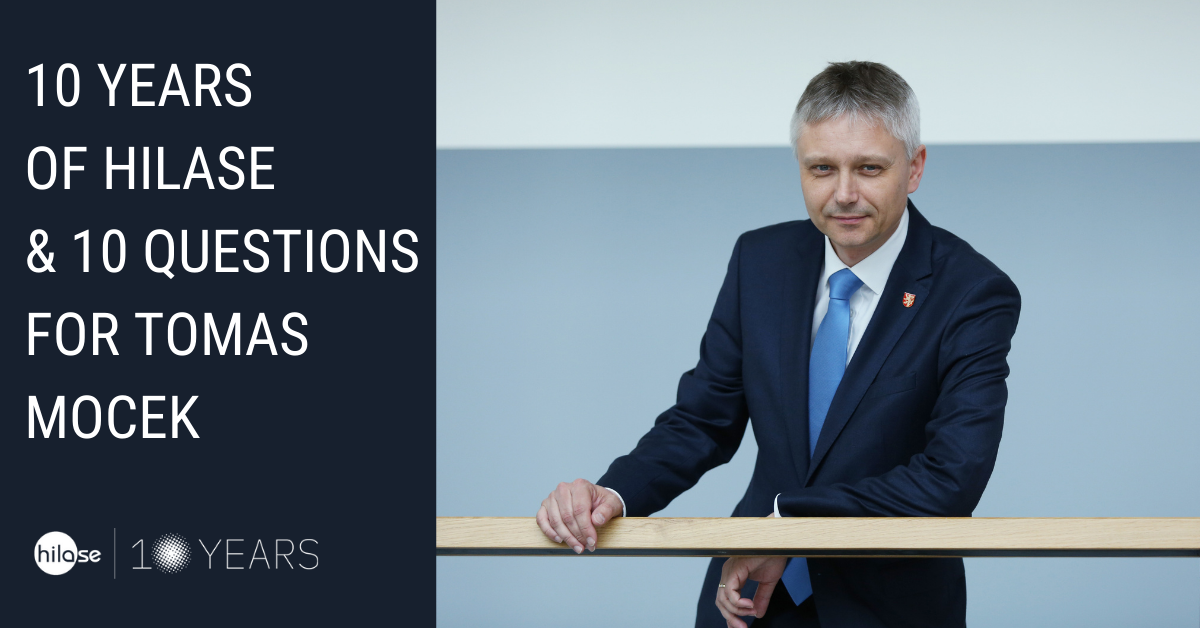 What has been the biggest success of these 10 years? I am most proud of the fact that we have managed to maintain and expand a stable international team.  We have managed to develop and assemble lasers that are unique in the world, that we use them successfully for applications and that they work reliably. This is exactly what our users and industrial partners appreciate the most. Moreover, in the past 10 years we broke two world records on the Bivoj laser system.
What have you enjoyed most about HiLASE over the last ten years? I remember at my birthday party, I think it was in 2014, my colleagues compared me to a lighthouse. And this year I even got a lighthouse from HiLASiANS.
Do you remember a moment when you really worked up a sweat in HiLASE? I was most nervous about the official opening of the building in 2014. Luckily, everything worked out the way it was supposed to.
When you look back – is there anything you would have done differently? Probably nothing, except maybe we would have built the thin-disk lasers in-house from the beginning.
If you were to start HiLASE again, would you do it? Absolutely!
And what advice would you give to someone thinking of doing something similar? To choose something really new, innovative, creative, something that will take the world a little bit further.
What would you like to achieve at the HiLASE Centre in the future and what do you think we need to make it happen? I would like the HiLASE Centre to run like a well-oiled machine. To have meaningful projects and opportunities for collaboration, as well as interesting services and products for potential buyers. For this we need a team of great people who are not afraid to innovate and dream big.
Where do you think the HiLASE Centre will be in 10 years in terms of research programmes? We will continue what we have started, focus on advanced manufacturing technologies… and we will get into space 🙂
What have the last 10 years at the HiLASE Centre given and taken away from you? It has given me self-confidence, the experience that taking risks is worthwhile, the joy of results of creative and meaningful work. It has taken away the opportunity to continue my active scientific work, but I certainly don't regret it because my role is different. I feel comfortable in the role of music conductor. /laughs/
What would you wish the HiLASE Centre for its 10th birthday? Good luck for the next decades! Many meaningful projects, new discoveries and exciting moments in overcoming the limits of current laser technologies, new scientific and commercial collaborations, sufficient financial resources and potential investors, as well as the continuous development of our product and service portfolio!  I wish HiLASIANS the joy of good work and the realization of their individual dreams! Sometimes a simple dream can be the inspiration for an interesting idea, which with hard work and luck will eventually become a reality and a great technological innovation! So, don't be afraid of big challenges and go determinedly after your dreams!