HiLASE Centre at the Laser World of Photonics 2022 trade fair
Don't forget to visit the HiLASE Centre stand at the 25th Laser World of Photonics, the world's leading trade fair for photonics components, systems and applications. During the whole fair (26-29 April) you will find us at booth B5.242 together with representatives of the Czech Optical Cluster. Join us to discuss laser solutions for industry, the latest results from our laboratories, or career opportunities in our teams!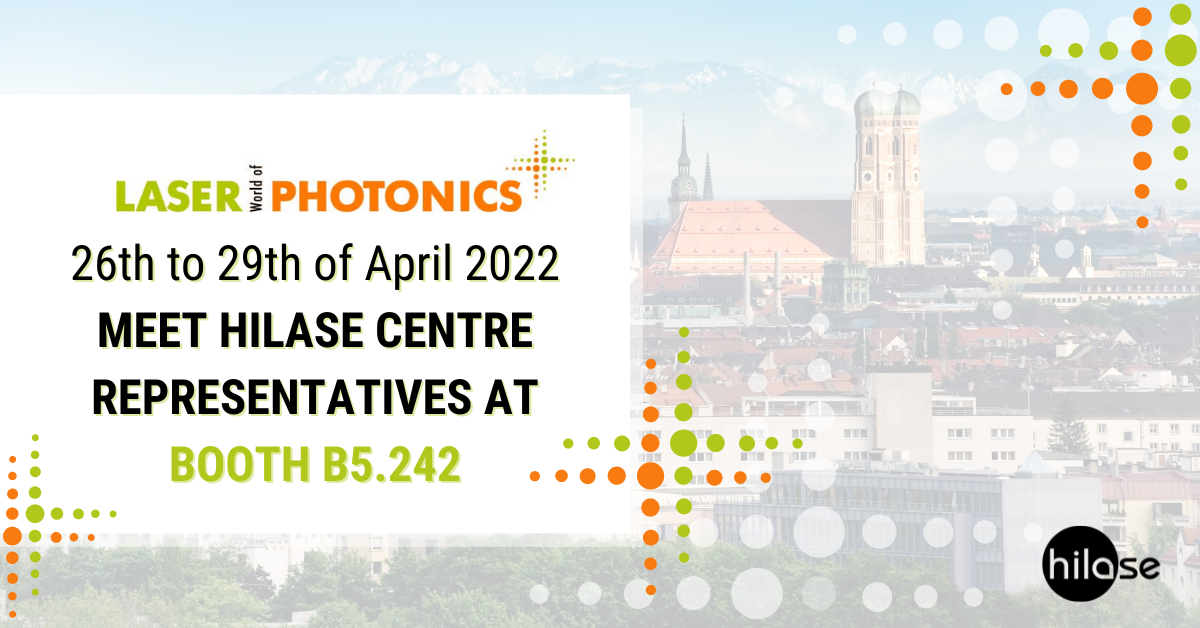 At the fair you can also look forward to the announcement of the LIDT Challenge, for which our team has been testing samples in ISO-certified LIDT laboratories in recent weeks. In addition, you can attend a lecture about LIDT.
Notice: The first year of the HiLASE Laser Induced Damage Threshold Challenge has its winner! In this competition, we have tested ten samples of high reflective dielectric coated mirrors at the HiLASE Centre ISO certified LIDT laboratory. Of all the components tested, the Laseroptik sample with a value of 0.4 J/cm2 performed the best. Read more …
The announcement will take place during the workshop of the Czech Optical Cluster, which will be held on Wednesday 27 April at 2pm. During this event you will also have the opportunity to learn more about the members of the Czech Optical Cluster and the German Photonics Hub, including presentations by Tomáš Mocek and Jan Brajer from the HiLASE Centre.
The Laser World of Photonics has been held since 1973 and combines the latest topics in laser and photonics research, technology and applications. In addition, the fair also focuses on other important industries such as materials processing, measurement, testing and monitoring, optical data transmission and lasers in medicine.