HiLASE Centre at the 2023 LaserEMobility Workshop
HiLASIANS Sanin Zulic (International Business Development Manager) and Petr Hauschwitz (Laser Micromachining team leader) will be participating in the 2023 LaserEMobility Workshop in Milano, taking place on the 13th and 14th of March.
Get in touch with them to arrange a meeting at the event if you are interested the application of Laser Micromachining (LMM) and Laser Shock Peening (LSP). We are open to scientific and commercial collaboration and our colleagues would be happy to discuss the possibility of joint projects with you.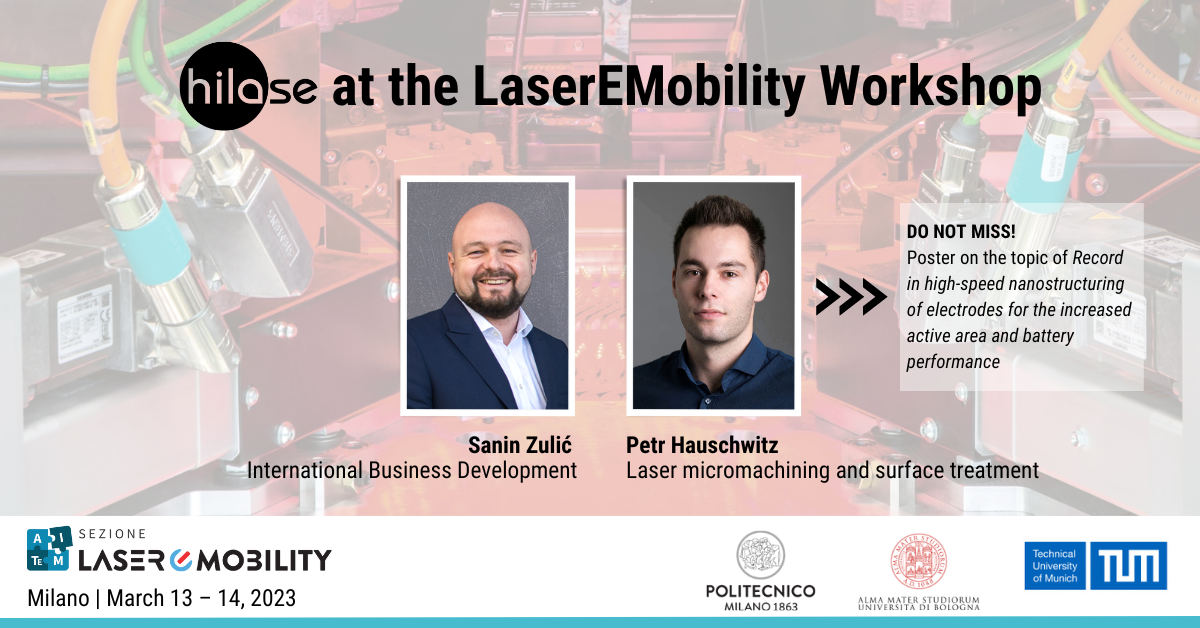 Petr Hauschwitz will also present his work at the workshop in the form of a poster. The presented research titled Record in high-speed nanostructuring of electrodes for the increased active area and battery performance was authored by Petr Hauschwitz and Sanin Zulic (HiLASE Centre), in collaboration with Petr Mazur, Premysl Richtr and Jaromir Hnat (University of Chemistry and Technology Prague).
The LaserEMobility Workshop is in occasion for representatives from both academia and industry within the field of laser-based processing in electric vehicle manufacturing. The event includes technical presentations, as well as an exhibition zone where the latest technological trends will be presented. It is organised by Polytechnical University in Milano, University of Bologna and Technical University of Munich.
Find out more about Petr Hauschwitz's micromachining work: