Laser Shock Peening now available for Open Access
New modern Laser Shock Peening station is now available at the HiLASE Centre to other users free of charge in the frame of the Open Access programme. 
Laser Shock Peening is a very promising method for improving the mechanical properties of metallic materials used for extremely stressed components. Laser induced shock waves cause localized plastic deformation to generate compressive residual stresses and strain hardening. The LSP technology goes many times deeper than conventional methods and is able to treat specific and hard to reach areas. As a result, the Laser Shock Peening improves fatigue and corrosion resistance, prevents high-cost failures and reduces downtime of machinery.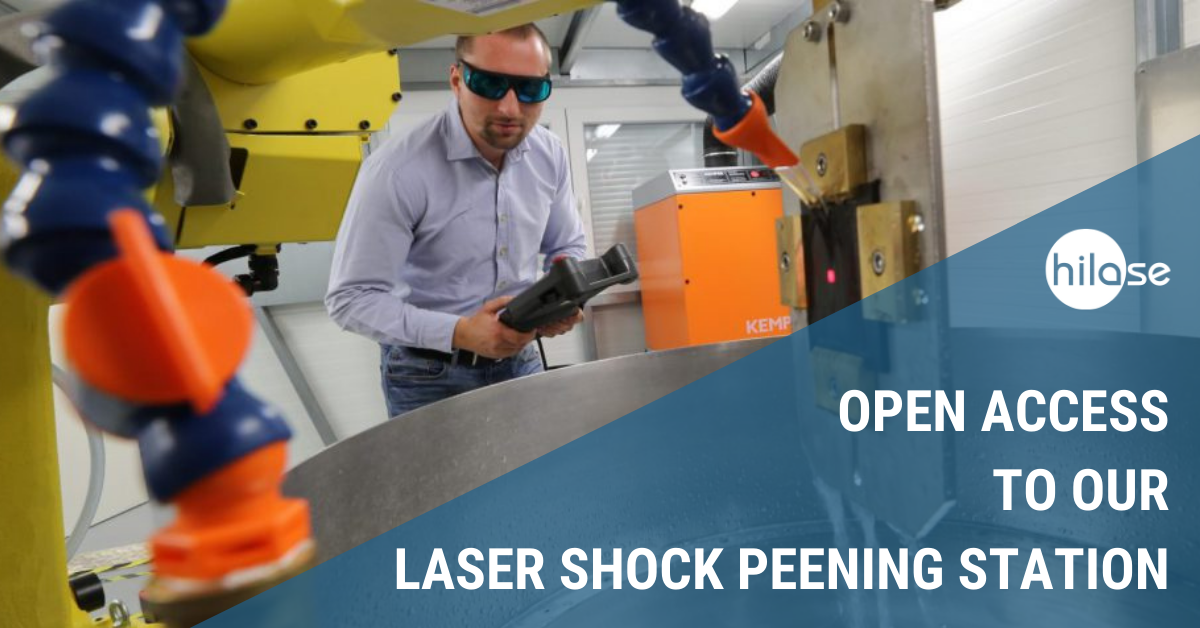 It is applicable to aluminum, titanium and nickel alloys, and to structural and alloy steels. That makes it a perfect technology for applications in aerospace, automotive, maritime, biomedicine or tooling. It is also a great ally for Additive Manufacturing (AM) as it significantly improves the quality of AM parts and enables usage of AM for the critical parts in the most demanding industries. More details in our LSP White Paper.
Our laboratory is equipped with state of the art devices for measurements of residual stress (Stresstech Hole drilling device and of Rigaku AutoMATE II system for measurement of residual stress based on X-ray technology) and metallography cell for sample preparation. It includes high intensity nanosecond laser system (10 ns, 10 J, 10 Hz @ 1030 nm), square, top-hat laser beam profile, robotic arm for easy component manipulation, loading capacity up to 20 kg.
HiLASE Centre has been providing its facilities within the Open Access for several years. A perfect example of successful cooperation within the Open Accesss programme would be the project 'Mechanisms of life enhancement by laser shock peening surface treatment' led by a group of researchers from the University of Coventry (UK) and the HiLASE Centre LSP team (more details).
If you are interested in how to use the facilities of our unique Laser Shock Peening station completely free of charge, take a look at the possibilities of cooperation within the Open Access program. New applications can be submitted until May 15, 2021.