HiLASE Centre at the 3rd AMCTURKEY Additive Manufacturing Conference Sanin Zulić | talk
Our colleague Sanin Zulić, LSP Research & Development Scientist, will give a talk "CHANGE OF RESIDUAL STRESS STATE AND REFINING MICROSTRUCTURE OF METAL ADDITIVELY MANUFACTURED PARTS BY LASER SHOCK PEENING" at the 3rd AMCTURKEY Additive Manufacturing Conference that will be held on October 6-8, 2022 in Kusadasi, İzmir, Turkiye.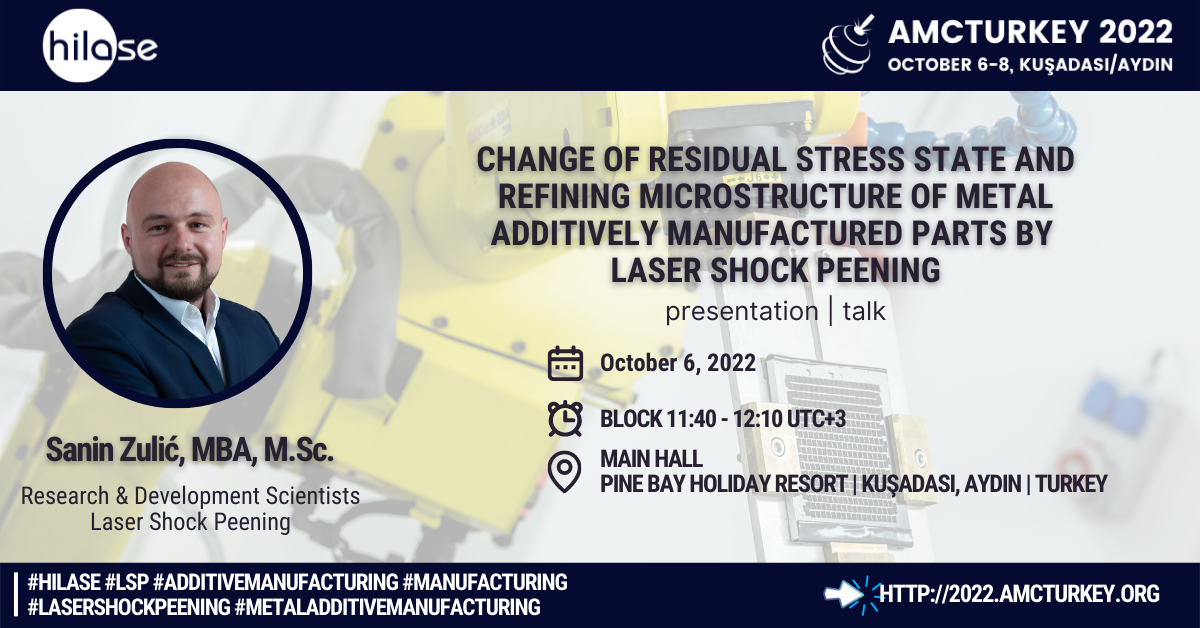 Abstract:
Metal additive manufacturing (MAM) has huge attention from scientific and research communities. The reason for this is the possibility of the wide applicability of the technology and flexibility. However, there are still technical issues to be solved so MAM can reach implementation at its full capacity. In order to achieve that, often is necessary to apply additional post-processing so the mechanical properties are at a desirable level. In this paper, the capabilities of Laser Shock Peening (LSP) as a postprocessing method for MAM are presented. It has been observed that LSP can effectively modify the MAMs microstructure and improve related mechanical properties of MAM enabling its use in wider, more sensitive, applications.
About the conference:
The 3rd AMCTURKEY Additive Manufacturing Conference will be an open and appealing platform for researchers, academics, sector representatives, entrepreneurs, students and people interested in Additive Manufacturing Technologies. AMCTURKEY 2022 brings local and international scientists, researchers, and representatives both from academia and industry, where they can present and share their recent scientific discoveries, research activities and emerging applications in Additive Manufacturing and related technologies.
The talk is planned on October 6, as a part of the block starting 11:40 UTC+3 – more details in the programme.
LASER SHOCK PEENING AT HiLASE CENTRE
LSP is a technology that will help increase the efficiency of metal additive manufacturing. Research shows that the use of LSP significantly improves the quality of the parts produced, opening the door for new applications for metal additive manufacturing in many industries. Metal Additive Manufacturing (MAM) technology has brought numerous benefits to mankind and considering the benefits of the technology such as manufacturing of complex shapes and lightweight parts, easy customization, design freedom, etc.
"It is expected that this technology will be more vital in the time in front. Even though this technology has found its place in many industries and it's regularly used nowadays, there are still areas where metal additive manufacturing cannot be applied because of certain limitations such as tensile residual stresses, voids, pores, surface roughness etc. These limitations are not allowing metal additive manufacturing to be used for critical parts, either because of technical or safety reasons. By employing Laser Shock Peening, many of these limitations can be overcome, mitigated, or completely eliminated. Laser Shock Peening can improve the mechanical properties of the additive manufacturing parts and enable the MAM technology for the most demanding applications and industries," says Sanin Zulić, LSP Research & Development Scientist.

INTERESTING RESOURCES
LSP WHITE PAPER
PAPER | Fatigue life enhancement of additive manufactured 316l stainless steel by LSP using a DPSS laser system 
ARTICLE | Laser shock peening in the tooling industry
PAPER | Morphology of Meteorite Surfaces Ablated by High-Power Lasers: Review and Applications 
BOOK CHAPTER | Surface Morphology of Nimonic Alloy 263™ in Nanosecond Pulsed Laser Ablation
PAPER | Facile Manufacture of Oxide-Free Cu Particles Coated with Oleic Acid by Electrical Discharge Machining
PAPER | Post-processing of selective laser melting manufactured SS-304L by laser shock peening
PAPER | Titanium Alloy Particles Formation in Electrical Discharge Machining and Fractal Analysis 
ARTICLE | Upgrading additively manufactured parts using laser shock peening